UPCOMING EVENTS
MAY 11TH, FRIDAY – AGRIVINO DINNER — SOLD OUT!!!  
Agrivino is a new, exciting part of Oregon Wine Country.  A wine education event center, Dario & Sheena paired their fabulous 5 course Italian cuisine with Ruby wines for a memorable Friday night feast.    Agrivino is located at 19280 NE Oak Springs Farm Rd., Carlton, OR 9711.  $90 all inclusive, reserve your seat at  http://www.agrivinocarlton.com/
MAY 19TH, SATURDAY, 11 AM TO 5 PM  – MEET THE PRODUCER WITH MATT ALFORD – ELKORN FARM AND FORGE
On Saturday May 19th, we are excited to bring back pig farmer Matt Alford of Elkhorn Farm and Forge.  Last year was a huge hit, with many folks taking home his amazing pork.  Matt has been raising heritage breed hogs in Laurelwood, just over the hill from us, since 2010. Matt's hogs free range on Bald Peak. This very local pork.  Matt has quite the following and his hogs are highly sought after in Portland restaurants. Matt will be selling all sorts of cuts for you to take home. 
https://elkhornff.com/
Come and join us!
MAY 20TH, SUNDAY, 11 AM TO 5 PM – MOTHER'S DAY
All Mother's receive a Mimosa as part of their tasting, made with our 2014 Pet Nat Chardonnay.  Join us for a lovely visit with Mom!
MEMORIAL WEEKEND MAY 26TH, 27TH AND 28ST FRIDAY 11 AM TO 5 PM
We will be pouring the 2017 Pinot Gris, 2017 Rose' of Pinot Gris, 2015 Willamette Valley Pinot Noir, 2015 Laurelwood Blend Pinot Noir, and 2015 Estate Blend Pinot Noir. Of course, the meatballs with cranberry sauce, and our homemade Dijon style mustard.
JUNE 6TH, WEDNESDAY 6 PM TO 9 PM – CORKS + FORKS,  CLASSIC WINE AUCTIONS
Join us at the fifth-annual Corks + Forks, presented by Classic Wines Auction, on June 6 at Castaway. We will be there, for our first time, pouring our wines, including the '15 Estate Blend Pinot Noir and the '15 Winemaker's Reserve Pinot Noir for guests to enjoy with tasty appetizers. Tickets are on sale now at http://www.CorksandForksPDX.com and proceeds benefit five local nonprofit organizations. We hope to see you!
****************************************************************************************************************************************************************************
NEWS
Rusty Gaffney, MD is the "Prince of Pinot", one of the most knowledgeable and articulate wine bloggers, focusing on Pinot Noir.  He visited Ruby, and here is his summary:
VOLUME 11, ISSUE 9
September 5, 2017
Ruby Vineyard & Winery, Hillsboro
This is a newer winery not as yet on many pinotphile's radar, but it has significant historical foundations and a new winemaking team that should bring the winery prominence.
In 1973, John and Beth Hiestand planted own-rooted Wädenswil 1A clone from the South Block of Eyrie Vineyards acquired from David Lett. The cuttings were rooted next to the barn on the property and planted the following year.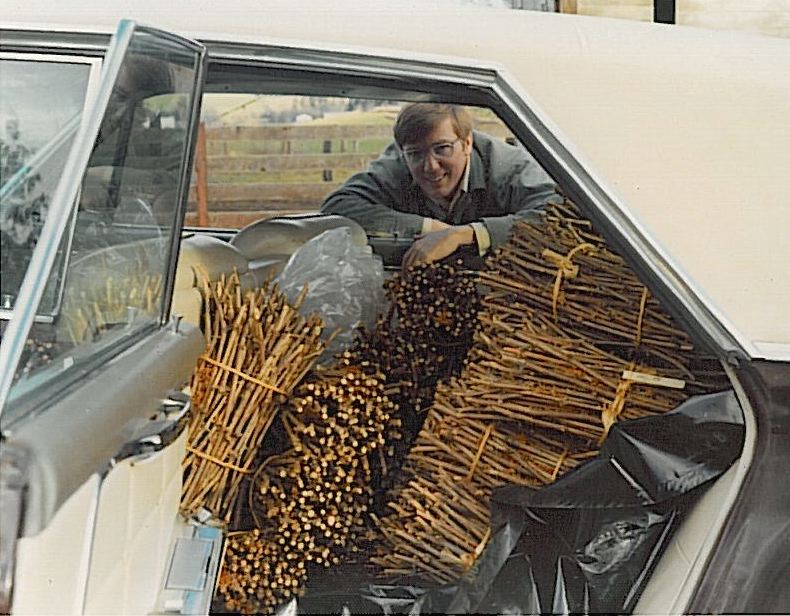 In 1979, Bill Beran, a physicist planted the bulk of the vineyard, 7 acres, to own-rooted Pommard, Riesling and Chardonnay. The white wine vines were grafted to Dijon 115 Pinot Noir in 1990. Organically farmed from the beginning, the vineyard was planted on Laurelhurst (Laurelwood) soil, a combination of Jory and Willakenzie soil types. Bill and Sharon Beran converted the diary barn to a winery and launched Beran Vineyards & Winery with their first vintage in 1997.
The property was first homesteaded in 1875 by John McFee. Abijah Hendricks homesteaded a parcel of land near Carlton, Oregon after arriving on a wagon train in 1843. In 2012, his great-great grandson, Stephen Hendricks, a lawyer and fifth generation Oregonian, returned to his roots in the Willamette Valley, acquiring the Beran Estate Vineyard and winery and establishing Ruby Vineyard. Currently the vineyard has 7.5 acres of old vine Pinot Noir dating to 1973-1979 and 1.8 acres of newly planted vines (cuttings of Wädenswil 1A taken from old plantings and 3 Dijon clones of Chardonnay).
Winemaking at Ruby since the 2016 vintage is under the direction of consulting winemaker Eric Hamacher and assistant winemaker Andrew Kirkland. Eric has 22 vintages under his belt in Oregon, 12 of those at Carlton Winemaker's Studio. Andrew worked in wine retail in Seattle and New York and was exposed to many great wines. His recent winemaking experience came at Brittan Vineyards.
Current capacity is 3,500-4,000 cases per year. Current wines offered include Chardonnay, Rosé of Pinot Gris, and four 2015 Pinot Noirs. I tasted through the 2015 Pinot Noirs in the tasting room with Eric and Andrew and then barrel tasted several 2016 Pinot Noirs in the winery. It is clear that this winemaking team is enthusiastic about the potential of this iconic vineyard and the 2016 wines will be special.
The tasting room at Ruby is open six days a week (closed Tuesdays) with private tastings available with the owner or winemakers by appointment. Visit www.rubyvineyard.com. The historic winery retains its dairy farm roots (see photo below).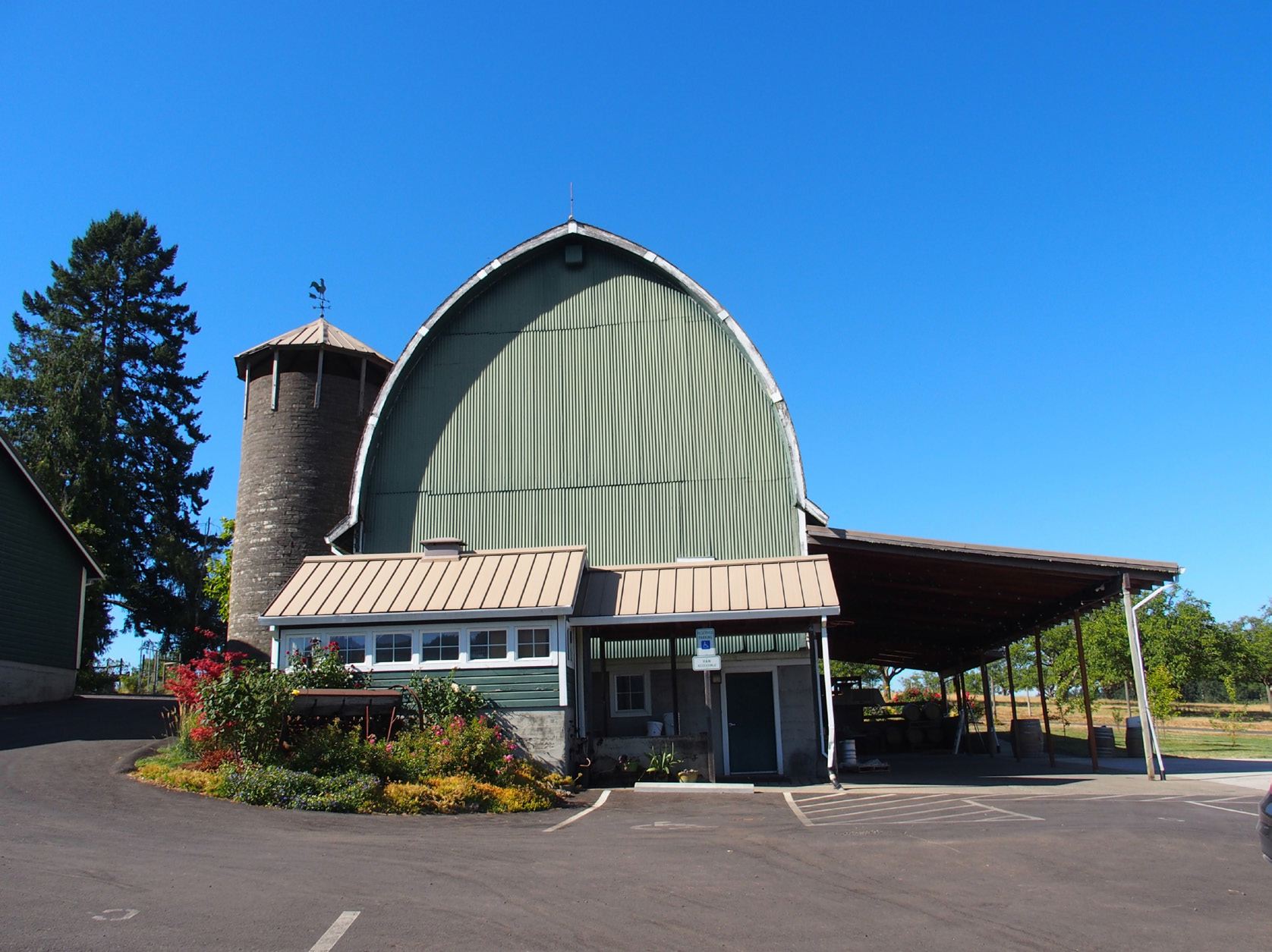 2012 Ruby Single Clone Wädenswil Chehalem Mountains Oregon Pinot Noir
14.3% alc., $125. 40-yearold Wädenswil clone vines planted in Laurelwood soil. Indigenous yeast fermentation. · Moderately light garnet color in the glass. Seductive perfume of cherry, spice and sandalwood. Lighter weighted flavors of red cherry, cranberry and oak-driven notes of smoke and tobacco. More elegant and engaging than many Willamette Valley Pinot Noirs from the 2012 vintage, with silky tannins and easy drink ability. The oak overlay is a bit imposing. Score: 90
2015 Ruby Flora's Reserve Chehalem Mountains Oregon Pinot Noir
13.8% alc., 50 cases, $N/A. Composed of Wädenswil 1A clone planted in 1973. · Moderately light garnet color in the glass. Exotic aromas of red cherry, rose petal and spice. Seamless in character, with mid weight flavors of cherry, raspberry and spice lifted with a bright acid spine. Mildly perceptible silky tannins and an engaging and juicy finish. Score: 93
http://www.princeofpinot.com/article/1990/
********************************
August, 2017:  Andrew and Steve were interviewed on the local Hillsboro radio station KUIK.  Listen here:  http://kuik.com/the-business-voice-podcasts/82117-the-business-voice/
Travel writer Mary Charlebois just posted about her visit to the Tualatin Valley, including Ruby. She used a photo of the vineyard and highlighted our beautiful setting.  We edited the post for brevity.
TUALATIN VALLEY OREGON – PRIME WEEKEND TERRITORY
Mt. Hood peaks between the hills from time-to-time. Along two-lane backroads, you're occasionally slowed by a tractor. Barns, livestock, orchards, farms, and vineyards dress the rolling hills. U-pick fields, farm stands, tasting rooms and cyclist pop-up along the way. You'll easily forget a busy city is a few miles away.
Less than an hour from Oregon's coast, and 30-minutes from the west side of Portland, Tualatin Valley is home to some of the greenest wineries, micro-breweries, cideries, organic farms and eateries in the state.
Laid-back Tualatin Valley is perfect for a weekend of wandering and exploring.
*******
Lunch – at Cruise In Country Diner not far from the wetlands. Vegan or carnivore, they have a burger you'll love. The café serves all natural & organic food, locally sourced. Burgers come in NW grass-fed beef, buffalo, lamb, alpaca, chicken, and veggie. Cruise In's bacon & hot dogs have no nitrates or chemicals. Malts, shakes, beer and wine round out your lunch.
Wine tasting – Cooper Mountain Vineyards and Ruby. Both wineries and vineyards are organic. Each makes award winning wines. It's their locations that couldn't be more different.
Cooper Mountain's winery was once surrounded by farming as far as you could see, but the city has inched over the hill, sprouting condos and suburbs. Food and music events where all are welcome, happen spring till fall.
Ruby's setting is majestic. On a clear day Mt Hood is smiling. The surrounding rolling-hills go crimson in the spring when clover blooms. A historic old barn houses aging wine. The tasting room is a wood beauty. Spend some time on the deck and enjoy their delectable wine.
Dinner at Yellow Llama. Music and decor will transport you to Peru. Authentic and fresh, with flavors that draw you back for more. Peruvian inspired, hand crafted cocktails compliment the food. Traditional dishes like, Arroz con Pollo (chicken and rice) a Peruvian staple, Empanadas (you'll want a dozen), and Carapulcra – pork and chicken in savory Aji Panca sauce. Don't worry, they'll help you with the menu and make your meal a celebration.
Breakfast – at Maggie's Buns. Full service breakfast with cinnamon rolls as big as your head. What more do you need? Maybe one of the huge omelets with toast from house made bread.
******
Getting there – Fly or drive to Portland. You'll need a car for this trip. Make your first stop McMenamins. Check their website for directions. Helpful to have – GPS, some of the back roads are tricky.
This area is rich with beauty, life, and activity. Wander, get lost, stop at a brewery, buy something from a farm stand you eat immediately, admire some cows, take more photos than usual, stop for coffee at a roadside stand. This is a fertile, productive area of farms and vineyards. Stand outside and smell the goodness. Inhale beautiful charming Tualatin Valley Oregon.
Wine Enthusiast Review
We are pleased that the first time we ever submitted wines for review and ratings, Wine Enthusiast Magazine rated all 3 of the wines we submitted 90 points or higher, and gave one and Editor's Choice.
"The editors at Wine Enthusiast have recently rated and reviewed your wines and we are pleased to share some great news with you. Your wines have received the following scores:
| | | | | | | |
| --- | --- | --- | --- | --- | --- | --- |
| 91 | Ruby | 2015 | Steve's Reserve | Pinot Noir | Chehalem Mountains | $65.00 |
| 91 | Editors' Choice | Ruby | 2015 | Pinot Noir | Willamette Valley | $22.00 |
| 90 | Ruby | 2015 | Laurelwood Blend | Pinot Noir | Chehalem Mountains | $36.00 |
To be published in the JUNE, 2017 edition.
We don't live or die by wine scores, but it was nice to receive recognition for the hard work our wine making team put in for the 2015 vintage.
PREVIOUS EVENTS
APRIL 29TH, SATURDAY – WINE CLUB SPRING PICK UP PARTY
Wine club members can pick up their shipments, enjoy fabulous food and party with fellow Ruby wine club members.  No charge, of course.  Releasing for the first time the 2016 Pinot Gris, and 2016 Rose' of Pinot Gris.  If you would like to join the wine club, come on out and join the fun!!
APRIL 19TH, WEDNESDAY – POURING AT 503 UNCORKED IN SHERWOOD, WINE BAR WEDNESDAY, 6 to 8pm
22578 SW Washington Street, Sherwood, Oregon, Sherwood, OR 97140
We will be pouring and selling out 2014 Chardonnay, 2015 Rose' of Pinot Gris, 2015 Willamette Valley Pinot Noir, and 2015 Laurelwood Blend Pinot Noir
APRIL 8TH & 9TH  – WINE TRAIL WEEKEND –  SATURDAY AND SUNDAY, PIGS & PINOT 
We are joining with 18 other members of the North Willamette Vintners to host Wine Trail Weekend.   Olympia Provisions will be here serving samples of incredible chacuterie, also available for sale.   We will release for the first time the 2016 Pinot Gris, and also pour Chardonnay, Rose' of Pinot Gris, and our Pinot Noirs.  Purchase tickets at http://nwvintners.org/events-calendar-for-north-willamette-vintners/annual-events/
EVENT COST
$60 full weekend, $40 one day only, $20 DD weekend
EVENT DESCRIPTION
The 9th annual North Willamette Vintners Wine Trail offers you a host of rich and diverse winery experiences accompanied by food and wine pairings. You can choose to watch noir while sipping Pinot Noir, stitch together cuttings to graft a vine, toast an oak stave and smell the complex aromas released, and blend wines from single barrels to create your own unique cuvée. . . all in your first day of this spectacular two-day wine trail.
Your Wine Trail Kit includes a custom wine glass to commemorate the event, as well as a lanyard, both of which serve as your entry ticket. Upon completion of each experience, you will receive a unique button associated with that winery's activity.
VALENTINE'S WEEKEND – FRIDAY, SATURDAY AND SUNDAY, FEB 10TH – 12TH
Flowers & Wine for your love! Sample Chardonnay, Rose' of Pinot Gris, three Pinot Noirs, and the meatballs in pinot noir sauce for our first Valentine's Weekend in our beautiful new tasting room. Hill Florist will have bouquets available for purchase, and can custom arrange something just for you. $15 tasting fee, waived with $75 purchase, complimentary to Ruby Wine Club members.
OPEN THANKSGIVING WEEKEND FRIDAY, SATURDAY AND SUNDAY
Join us Thanksgiving Weekend as we officially release the 2015 Ruby Pinot Noirs – Friday, Saturday and Sunday, November 25th, 26th and 27th. 
IN THE FRENCH TRADITION
WE MADE NOUVEAU!
Join us as we release the 2016 Ruby Pinot Noir Nouveau Sunday, November 13th, 11 am to 4:30 pm
Our new wine making team, Eric Hamacher and Andrew Kirkland, using carbonic fermentation have crafted a Nouveau wine from this year's grapes; 2016 Ruby Nouveau of Pinot Noir.  Fresh, fruity, crisp and delicious. The French tradition is to release the wine the third Thursday in November, and rush the wine to Paris and elsewhere so people can immediately taste this year's vintage.  Please join us to celebrate harvest, nibble on light refreshments and get a taste of the fabulous 2016 vintage.  50 cases produced.
If you can't make it on the 13th, we will also be pouring our 2016 Ruby Nouveau of Pinot Noir at the Beaujolais Nouveau fundraiser for the Alliance Francaise at the Heathman Hotel, Friday, November 18th.  For more information:
http://www.afportland.org/2016/09/beaujolais-nouveau-2016-in-portland/
NEW TASTING ROOM FINALLY OPEN!!!
AS OF 8/26/16.  Open Friday through Monday, 11 am to 4:30 pm.
We finally received approval from Washington County to build a new building which will house a tasting room, with views of Mt Hood out one side and the vineyard out the other, located where the Gazebo used to be.  Scheduled to be done by August 31st.  Stay tuned for details.
THANKSGIVING WEEKEND
We will be open for your wine tasting pleasure Friday (yes, one has to DVR the Ducks/Beavers game, no spoilers, please) and Saturday, 11 am to 4:30 pm.  Of course we will serve the meatballs in cranberry/pinot noir sauce!  We will be tasting:
three lovely and elegant 2013 Ruby Pinot Noirs:
2013 Chehalem Mountain,
2013 Select Cuvee,
2013 Steve's Reserve, and
2014 Ruby Gerwurztraminer.
TASTING ROOM APPROVED
Washington County has approved our application to build a new tasting "room" (well, actually a separate building).
Details to come!!
PLANTING MORE FLORA'S RESERVE – MAY 2015

We love our small block of Wadenswil, the oldest vines on the property, but we only have 256, which most years only gives us one barrel (25 cases) of very special and wonderful wine. So we decided to plant the remaining acre with cuttings from these old plants.
Each hole is drilled with an auger, and then hand planted.
And then covered with a grow tube.
Hopefully will have small crop, starting in 2019!
MEMORIAL DAY WEEKEND
Open Saturday & Sunday, 11 am to 4 pm. Taste the delicious 2013 Pinot Noirs, and for the first time we offer Pinot Gris and Chardonnay. $15 tasting fee, yes we will be serving the famous meat balls in pinot noir sauce. Closed Monday for bottling.
Thanksgiving – Open Friday & Saturday, noon till 4 pm

Pouring 3 2012 Pinot Noirs, and the 2013 Gerwurtztraminer. Please swing by to see us.
Hillsboro Tuesday Marketplace – Tuesday, June 10th
We will be pouring from 5 to 8:00, Tuesday June 10th, outside of Primrose & Tumbleweeds. 248 E Main St, Hillsboro, OR. Please swing by to see us.
Washington County Bar Association Annual Picnic – Wednesday, June 11th

We will be hosting members of the Washington County Bar Association, Wednesday, June 11th, from 4 pm until 8 pm.
When in France, drink Ruby Estate Blend Pinot
Our good friends Jamie and John sent us this photo, enjoying a bottle of the 2012 Estate Blend at the Versailles Palace in France.
Where would you take and drink Ruby wines?
Memorial Day Weekend 2014
Thank you to all the folks who came by for Memorial Day weekend. Great wine, great people and great food made for a great time.
Come visit us at the winery! We will be open Saturday May 24th and Sunday May 25th, 11:00am to 4:30pm both days! Let's hope for great weather!
We will be pouring :
2013 Gerwurtztraminer
3 estate Pinot Noirs
2012 Willamette Valley
2012 Dijon 828/777
2012 Estate Blend
and – our winemaker's 2009 Montebruno Una Cuvee
A great spread of food is included for the $15 tasting fee ! (waived if you are a Ruby Club member). If you purchased futures, they are now available to pick up.
Proprietor Interview
Hillsboro radio station KUIK's show, Everyday Cooking with Kelli Greenwood, interviewed owner Steve Hendricks. Here is the link.
Savor Cannon Beach
We will be pouring our wines during the Wine Walk, Saturday,
March 9th from 2pm to 5pm. We are part of the Willamette Valley Winemakers Showcase in the community hall. Approximately 40 wineries will be present; tickets for the wine walk are $30. Proceeds benefit the Cannon Beach Preschool & Children's Center. For more information: www.savorcannonbeach.com
Thanksgiving, 2013
We will be open Friday, November 29th and Saturday, November 30th from 11 am to 3:30 pm. We will be tasting the Ruby Willamette Valley Pinot Noir, the Ruby 828/777 Pinot Noir, and the Ruby Estate Pinot Noir (although these wines won't be released until next year). We will also be tasting a couple of our winemaker, Joe Pedicini's, Eola/Amity Pinots. Tasting fee of $15 per person, refunded with purchases of 3 bottles or more.
The Ruby Estate Fruit was harvested October 6, 2013 with the help of the crew from Stirling Wine Grapes, and lots of volunteers. Thank you all.
Memorial Day, 2013
New Winery, Old Vines! Thank you to the great guests who visited us for our first opening to the public, Memorial Day 2013.
The wine
2010 Montebruno Eola Hill Pinot Noir – the wine that is being poured in Paris and Burgundy.
2009 Eola Hill Pinot Noir – delicious, smooth and nuanced.
2008 Willamette Valley Pinot Noir – the three clones, Wadenswil, Pommard and Dijon 115 are beautifully integrated.
2008 Beran Pinot Noir – smooth, elegant and the last bottle made with the estate fruit.
2009 Una Cuvee Pinot Noir – still WOW!!, but aging into a beautiful and still powerful Ribbon Ridge extravaganza.
The Food
Saturday: Grilled beef tenderloin marinated in pinot noir, rosemary, garlic, or roasted peppers, or organic riccota and olive oil, all on toasted crostini.
Cheese (comte, manchego).
Mediterranean Olive bread and baguettes.
Sunday: Grilled locally, prairie raised grilled pork tenderloin marinated w shallots, parsley, and extra virgin olive oil on toasted crostini.
Fire roasted mushroom medley with onions and fresh herbs.
Crostini topped w fresh tomatoes, fresh herbs & olive oil.
Local walnuts.
Cheese (Jarlsberg, comte & manchego).
Remodel Started June, 2013

We are expanding the crush pad to increase fermenter and barrel space and increase production. Plans designed by Reed Lewis of Lawrence Ferar, archictects who specialize in wineries. Contractor is Lorence Brothers Construction. Expected completion September 1, 2013.
Work Party – May 19, 2013
Volunteers moved catchwires, as the grapes start growing. Thanks to Rick, John, John, Jamie, Tom and Bill for getting the grapes off to a good start.
Harvest
Our first harvest was 10/11/12, and we are very excited about the wine. The fruit, although small in quantity (just over 5 tons for all three clones) was magnificent. The native yeast worked perfectly, giving us a slow and cool fermentation. The wine is now in the neutral barrels, aging.
Sunrise at Ruby Vineyard
During the afternoon of Sept. 30th Ruby Vineyard and Winery invited a community of our friends for an open house to meet out winemaker, Joe Pedicini. We tasted Joe's Montebruno 2008, 2009 and 2010 pinot noirs on the crush pad, and his 2009 Una Cuvee Ribbon Ridge Pinot Noir.